The Rechargeable Electrostatic Capacity Mask (RECm)
 was founded by Linh Thi Do in 2021; I serve as the team's Visual Communications Designer in addition to my full-time job. RECm was selected as 1 of 10 Phase 1 winners—including Amazon, Levi's, and Georgetown University—in the BARDA NIOSH Mask Innovation Challenge out of 1,448 total submissions. Each Phase 1 winner received $10,000 towards developing and testing their mask design. We are currently in the process of applying for Phase 2. To learn more about the Mask Challenge and see Phase 1 winners, visit 
BARDA Drive's website
.
THE NEED FOR A BETTER MASK
Covid-19 disrupted our lives in 2020. A vaccine had not been developed yet. Supply chain issues led to shortages. It was not sustainable for everyone to remain at home. Essential workers couldn't remain at home. Masking was, and still is, one of the best ways to protect ourselves and each other from contracting and spreading covid-19. Early on, disposable masks were prioritized for healthcare workers. For everyone else, fabric masks became the solution.
Suddenly the market was flooded with fabric masks of all shapes and sizes as home sewers and apparel companies rose to meet the demand. With no standards for face masks, how could someone without any knowledge of sewing or fabric know which mask would provide the most protection and the best fit? From personal experience, I know that not all masks are created equal. Like many others, I want a mask that is functional, budget-friendly, and aesthetically pleasing.
MAKING A BETTER MASK
Linh Thi, one of my sisters, worked in fashion for 10 years. With 2 children under 5, they would not be eligible for the vaccine for many months after, if at all. She researched fabrics and sewed face masks with different fabric stacks at home. She sewed them for family, friends, and the community and distributed them free of charge. After trying on her mask, they became the only mask I wore. They were comfortable, breathable, convenient, of good fit, sustainable, and beautiful—everything that a mask should be. Even better, they provided extra protection compared to a regular fabric mask. How did she do it?
Through many months of iteration, she arrived at a fabric stack of silk, polypropylene (PP), and cotton. These fabrics were chosen specifically to maximize the distance on the triboelectric spectrum. By simply rubbing a clean mask for 20 sec, the fabric mask would add 6-10% filtration efficiency (FE) in the form of electrostatic filtration on top of a fabric mask's base 70% FE from physical filtration. So even after going through the wash, this mask could be recharged again and again.
The silk and cotton were thrifted from secondhand clothing, and the PP was sourced from the nearby hospital's PP blue wrap waste stream. In a medical setting, PP blue wrap that is unwrapped, though unused, must be discarded per hospital guidelines. This means that millions of pounds of clean PP blue wrap could be repurposed. The mask can be made with elastic ear loops or include a lanyard, customized for the wearer's preferences. Through feedback from friends, family (including myself), and those with medical expertise, my sister continued to refine her face mask.
APPLYING FOR PHASE 1
The government administration realized there was a need to seek out and support teams with a mission to create a better mask, hence the BARDA DRIVe Mask Innovation Challenge launched in April 2021. Phase 1 winners would receive $10k and Phase 2 winners would receive $50k towards developing and testing their mask design. In addition to funding, participating in the mask challenge could lead to connections, such as finding a lab to test filtration efficiency or collaborating with others. At the very least, my sister wanted to share her findings on how to make a better fabric mask to a wider audience.
Linh Thi had the vision, and I believed in the product. Using my background in graphic design, I supported her with all things related to visual communications to complete her submission for Phase 1. This included designing a diagram to explain the mask features, digitizing the mask pattern, and editing a video demonstrating how silk and PP blue wrap can hold a static charge. Two doctors served as team advisors from the medical field.
The mask was submitted as the Rechargeable Electrostatic Capacity Mask, or RECm, for Phase 1. While we believed in what RECm had to offer, we were a small part-time team competing in a pool of 1,448 submissions. Without knowing the masks of the other submissions, we were unsure of how innovative RECm truly was. In my sister's research, she had not come across anyone who had tested the particular fabric stack she was proposing. Had anyone else considered it? And how well would the fabric stack do in testing versus projected calculations?
PHASE 1 FINALIST
In April 2021, RECm was chosen as 1 of 40 finalists to present in a nationwide pitch event the following month. There would be 4 pitch events, one for each region (West Coast, Midwest, Southeast, Mid-Atlantic), on 4 different days. RECm would be part of the third pitch event for the Southeast Region.
Knowing who the other 40 finalists were helped us understand what value RECm added to mask innovation. RECm was one of the few masks pushing the boundaries of fabric masks and was one of two masks utilizing electrostatic filtration, making RECm the only fabric mask with electrostatic filtration. Our team makeup consisted of majority women and BIPOC, adding diverse representation to the group of finalists, as well as representing small businesses compared to industry giants like Amazon and Levi's.
With limited time to prepare, I collaborated with my sister to establish a simple but comprehensive logo and branding that emphasized the technical and scientific differentiator of RECm with the triboelectric fabric stack. West Coast and Midwest pitch events were held one week prior, so I was able to watch and further analyze how RECm brought value to mask innovation as we refined the pitch deck.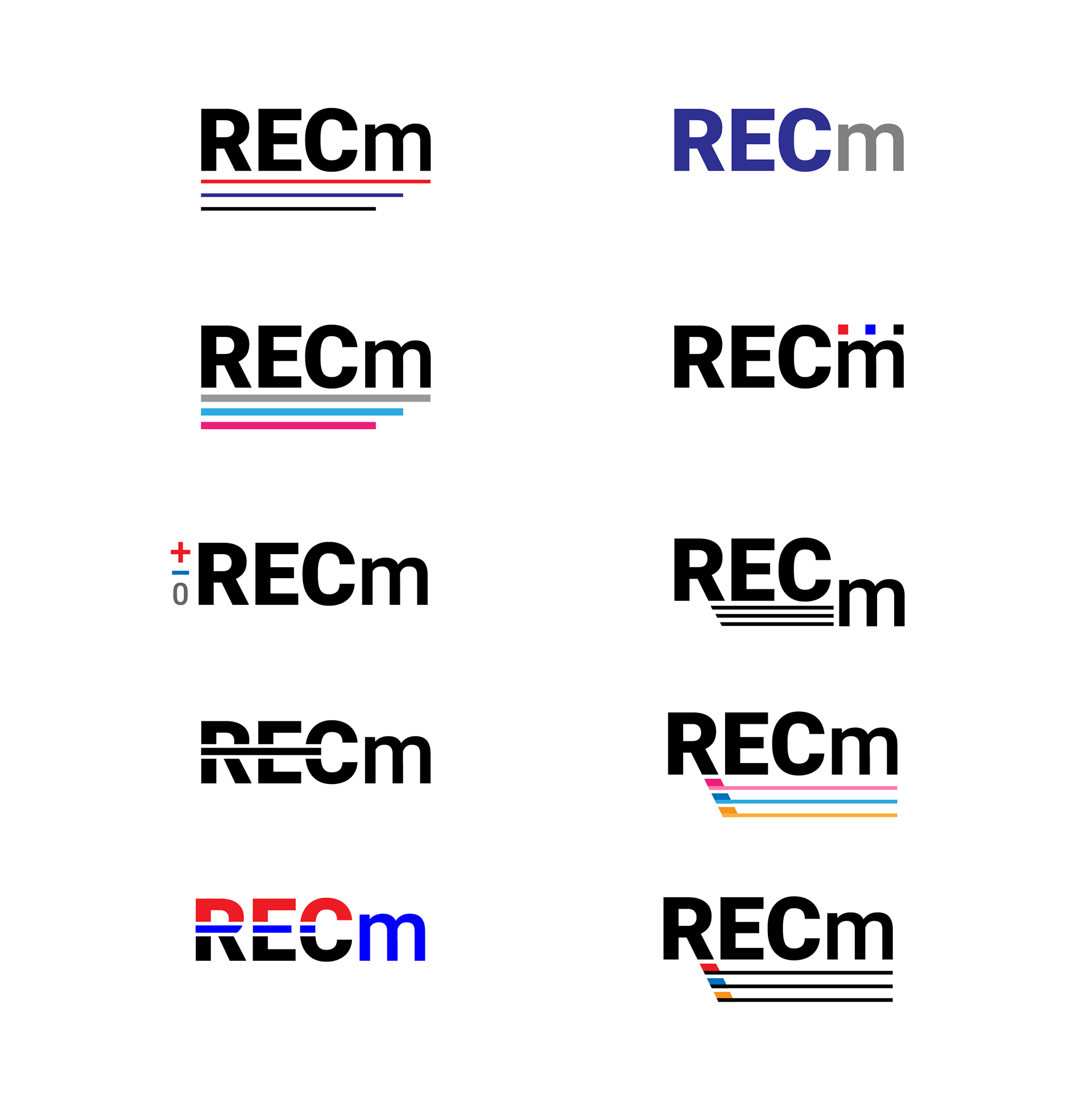 PHASE 1 PITCH
In contrast to other pitches, RECm is based on the idea of a better mask pattern being free, open source technology that can be and should be shared with as many people as possible. Take, for example, if at the start of the pandemic the CDC had recommended a few certified mask patterns that would guarantee a standard level of protection. For the average buyer who may not have the time or the knowledge to compare masks from home sewers or apparel companies, they can feel assured knowing that they're spending money on a mask of good value that will protect themselves and their families.
Fabric masks have the additional benefit of being made locally with existing infrastructure versus being dependent on supply chain logistics or requiring new and expensive equipment. Apparel manufacturers can be leveraged to ramp up domestic production 1-2 weeks and distributed by large retailers shortly thereafter. Home sewers can download the mask patterns, repurpose clothing, and sew the amount of masks that they need in the sizes that they need. 
PHASE 1 WINNER
In June 2021, RECm was chosen as 1 of 10 Winners from Phase 1 alongside Amazon, Levi's, Georgetown University, AtmoBlue, 4C Air, Air99, Air Flo Labs, The Makery Hilo, and Pacimask. With the confirmation that RECm's product and messaging brought value to the mask innovation space, we built out an online presence for anyone who wanted to connect with RECm following the award ceremony. I set up a basic website using Squarespace that could be later expanded with documentation and resources.
Through Phase 1, my sister connected with the 4C Air team at Stanford University that operates a lab with testing capabilities. Now with access to a lab, she is able to test different fabric stacks to maximize the triboelectric difference.
APPLYING FOR PHASE 2
While we may wish for the pandemic to end, the Delta and Omicron surges have shown us the cyclical and ongoing nature of Covid-19. We continue to need better masks to keep us and our loved ones safe now and in the future. RECm will apply for Phase 2 with a new and improved mask pattern as well as a new triboelectric fabric stack.